A Ngāi Tahu-Helmed Waka Commencing A Pioneering Journey Into
The Blue Economy
Our focus is the marine flora & fauna and extraordinary growing environments along the coastline of Ngāi Tahu's takiwa, which captures most of Te Waipounamu (the South Island), Rakiura (Stewart Island) and the sub-Antarctic islands.
We will be at the forefront of efforts to preserve and enhance those environments, supporting iwi initiatives to remove invasive seaweed species, while selectively and carefully harvesting native species in a sustainable and ecologically sound way.
We will utilize these materials to develop innovative culinary products, alternatives for petro-chemical based fertilisers to support regenerative farming, and novel dietary supplements that enhance well-being and support healthy ageing.
We will explore opportunities to develop new low-impact forms of polyculture (multi-species aquaculture) in environmentally suitable areas with the support of mana whenua and local communities.
We will do all of our mahi in consultation with Ngāi Tahu's Runaka (marae-based communities), providing opportunities for capability development and ongoing employment to local Ngāi Tahu.
At the helm of our waka are two accomplished and highly-esteemed Ngāi Tahu leaders.
Tā Tipene O'Regan – Patron
Tā Tipene needs little introduction
A former New Zealander of the Year and the holder of NZ's highest honor, the Order of NZ, he is one of Aotearoa's elder statesmen with few peers.
Tā Tipene made his reputation as the lead negotiator of Ngāi Tahu's Treaty Settlement with the Crown, one that has stood the tribe in very good stead – providing it with the basis of its present strong economic standing.
He was also known for his work on the Māori fisheries settlement, and influential role as the chairman of Te Ohu Kai Moana (the Māori Fisheries Commission) where he embellished his reputation with a dogged pursuit of Ngāi Tahu and Māori rights.
He has maintained a strong interest in our productive marine environments and secured unique rights for the tribe in its settlement. These rights provide Ngāi Tahu and Whiore with an opportunity to be an early mover and take a strong position in the nascent Blue Economy.
Graham earned his stripes first in academia as an economist and then business.
He worked for the Asian Development Bank and taught at Sophia University in Japan before establishing Jatra Corporation, an early pioneer in forging trade links into Japan and Asia. This work was recognised by Lincoln University, which awarded Graham an honorary Doctor of Science in 2008.
Graham is also a highly successful businessman, establishing Hi-Tech Foods which exported value-added food products to Japan and a very successful nursery in Christchurch.
He is a founder of Whiore, which he believes can play an important part of Ngāi Tahu's wider economic strategy as it moves into the post-Covid era.
The needs of the iwi initially brought Tipene and Graham together over 30 years ago
Legal costs incurred through the early stages of Ngāi Tahu's negotiations with the Crown stripped the cupboards bare.
Graham was asked to help and a relationship was established with the Yamada group of companies in Japan which resulted in an immediate fillip of the iwi coffers – and the establishment of a longstanding relationship between Tipene and Masashi Yamada. That survives to this day through the Yamada/O'Regan Educational Trust of which Graham is a Trustee.
Supporting Whiore's leadership in the engine room is Alan Groves.
Recognized for his efforts over more than 20 years to support innovation in virtually every facet of the Māori economy, Alan is also a serial entrepreneur, investor and innovator in his own right.
He was recently a co-founder and the initial COO of CH4 Global, a company pioneering the development of methane inhibitors based on a seaweed (Asparagopsis Armata) native to NZ and in particular the coastlines, harbors and sheltered bays around Rakiura and Te Waipounamu.
Alan has worked extensively in aquaculture focused on native fauna such as paua, oysters and greenshell mussels, and more recently seaweeds. He has also developed a range of nutraceuticals based on marine bio-actives derived from these and other endemic species.
Alan, who has an MBA from Victoria University, is a trustee of Whenua Māori on Rakiura and in Murihiku and is a former trustee of Rakiura Māori Land Trust.
alan shares with tipene and graham
a deep whakapapa connection
to rakiura and the neighbouring ruapuke island
Supplementing Whiore's leadership team are some of NZ's leading experts in fields highly relevant to Whiore's business. They include:
Dr Richard Furneaux – Distinguished Scientist, Ferrier Institute
One of NZ's foremost Organic and Natural Product chemists, with specific expertise in carbohydrates and polysaccharides including those derived from seaweeds.
Prof. Chris Hepburn – University of Otago
Highly knowledgeable about the marine flora & fauna and growing environments of the southern coastline and islands, with a particular focus on seaweeds. Has played a key role in setting up Ngāi Tahu's Undaria control programme.
Dr Jane Kitson – Director, Kitson Consulting
Ecologist and environmental scientist with research interests in freshwater, estuaries, coasts, mahinga kai and cultural monitoring. Specific expertise in important Ngāi Tahu mahinga kai such as Kanakana (lamprey) and Titi (muttonbird). Deputy chair Titi Islands Administering Body. Formerly on the Board of Nga Pae o te Maramatanga.
Whiore's initial business focus
Undaria Pinnatifida (Wakame)
Whiore will focus initially on opportunities relating to the invasive species Undaria.
Introduced from Japan, where it is known as wakame and is a prized staple of their diet, Undaria has become very well established along the southern coastline and is now the focus of an iwi-driven control programme.
Whiore will identify uses for this material ranging from food products to soil conditioners/plant growth stimulants and extracts for use in nutraceuticals.
Whiore lands Vision Mātauranga Capability Funding and place on NZTE Hatch programme
Whiore has landed a $250,000 grant from MBIE's Vision Mātauranga Fund which will provide it with access to a 0.5 FTE at the Ferrier Institute for two years commencing June 2023.
This secures Ferrier as the anchor science provider to Whiore and deepens bonds between the two entities, based on a professional relationship formed over 20 years ago between Ferrier's distinguished professor Richard Furneaux and Whiore CEO Alan Groves.
"It's so pleasing to be able to lock the Ferrier in to such an important science leadership role for our company," Alan said. "The Ferrier has deep knowledge and world-leading expertise in carbohydrate chemistry and polysaccharides which are critical to our R&D programme going forward.
"Richard is an internationally recognised seaweed expert and one of NZ's leading Natural Product scientists. He has been a notable generator of IP over many years and his networks are legendary."
The two parties are now working on an even larger funding application, which would be a huge boon to Whiore – and exponentially broaden its business horizon.
Whiore was also one of five aspiring tech companies to land a place on NZ Trade and Enterprise's Hatch programme.
This provides access to mentoring services provided by Hatch, one of the world's leading Blue Economy and aquaculture consultancies.
Alan is being mentored by Nitzan Unger, Hatch's seaweed expert based in Vienna.
"It is so good being able to speak to a Subject Matter Expert who can provide a truly globally perspective on our business prospects," he said. "Nitzan is extremely excited about Whiore's vision and mission, and its business potential. I've already convinced him he needs to make a trip down here – if to be able to do nothing more than dive around Rakiura!"
Whiore and Te Huata join forces, signal intent to collaborate on seaweed initiatives
Whiore has signed a Memorandum of Understanding with Te Huata which will result in collaboration between the two Māori companies on seaweed related developments across the full technological and commercial spectrum.
Te Huata is a business platform established by Eastern Bay of Plenty iwi Te Whānau-ā-Apanui to allow it to utilise the 10,000 hectares of water space it will take control of as part of its Treaty settlement for the large-scale commercial production of seaweed.
The two parties share an interest in emerging bio-refinery approaches to optimising the value of seaweed biomass, and evolving seaweed hatchery and farming technologies. They will collaborate on technology procurement, adoption and development, as well as the development
of mutually-beneficial expertise and capability on a cross-party platform that facilitates knowledge and technology transfer.
The MoU also envisages a leadership role for the partnership in the burgeoning Māori seaweed sector.
It is an exciting development heralded by Whiore's patron Tā Tipene O'Regan and Tekou Rikirangi Gage, CEO of Te Rūnanga o te Whānau, the two signatories to the MoU.
"This is now a two-hulled waka that can take us on an even more expansive journey," Whiore CEO Alan Groves commented post-signing.
Haydn Read, Rikirangi Gage, Jack Parata (Te Huata); Ta Tipene, Alan Groves, Graham Kitson (Whiore).
Whiore welcomes Taira (Tait) Wichman to our technical advisory team
We are pleased to welcome a long-standing friend, colleague and collaborator, Tait Wichman, to our technical advisory team.
A highly accomplished engineer who has worked across many disciplines, Tait brings exceptional technical and technology problem-solving skills to the team. A graduate of Auckland University, he first earned a name for himself at Industrial Research Limited leading a talented team of research engineers in the development of innovative robotics and vision sensing technologies to automate tasks in the meat processing industry.
In the commercial environment, Tait is an accomplished machinery designer and project manager for machinery design, certification and manufacture – including the development of manufacturing, production and quality control processes and systems.
He has also worked on innovative materials handling and design, and founded a start-up based on a novel stretchable fabric-based heater he developed.
Over the past 10 years Tait has applied his research, engineering and advisory expertise to house-scale wastewater treatment systems and community wastewater infrastructure. A notable outcome has been a novel iwi-centric approach to the implementation of the wastewater treatment scheme servicing the communities of Rotoiti, Rotomā and Rotoehu.
Tait is a company director and an Ahu Whenua trustee. He has New Zealand Māori, Cook Island and Tahitian heritage.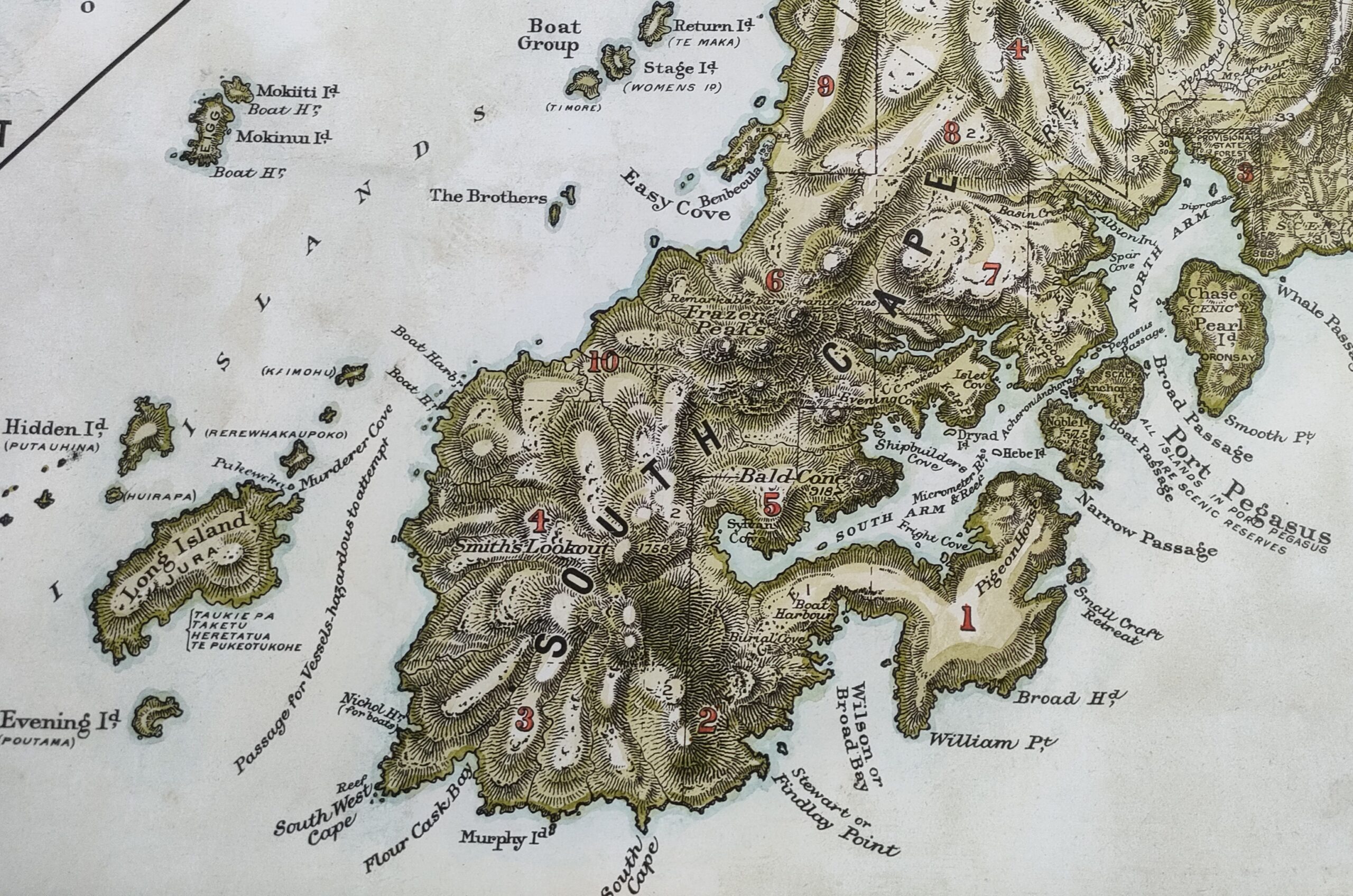 Whiore is the traditional name of Rakiura's South Cape. It is a reference to the shape of the cape which looks like the tip of a whale tail.
WE HAVE CHARTED A BOLD ANd CHALLENGING COURSE.
WITH THE HORIZON BECKONING, IT IS TIME TO PUSH
THE WAKA OUT FROM THE SAFETY OF THE SHORE
If you have an interest in an Undaria supply, or Whiore's wider business, please contact Alan at:
[email protected]